Example System
/
Genius Vision Rapid Answerer

Protect Your NVR System by changing default password
Overview
NVR systems are vulnerable to hacking like any PC connected to a network, LAN or WAN. It's common to use passwords to protect NVR systems. NVR softwares, IP cameras, stand-alone NVRs usually comes with a default username and password. There're only a handful of combinations, i.e., admin/1234, root/pass...,so it can be easily guessed. And they are usually documented in user manual which is open for anyone to download. Even worse, there're automated tools that are actively trying to access any NVR and IP camera on Internet. An article on Network World revealed this escalating threat to IP video surveillance.
To protect your NVR system, you must change the default password. A system with default password is as secure as a system with no password at all. And it gives out a false sense of secure.
Changing default password in Genius Vision NVR
After verion <upcoming>, Genius Vision NVR hints users to change default password. Just enter the old password and the new password in the dialog to change the default password, if the dialog pops automatically.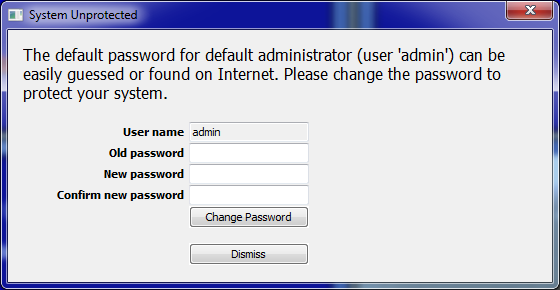 The dialog no longer pops if you change the default password. You can also click dismiss to ignore the warning but you will leave your system unprotected.
Please understand that with this dialog you are changing the password for default administrator (user 'admin'), no matter what account you are currently logged on with now. Genius Vision NVR does not hint to change password for any other administrator accounts you create on your own. So please make sure you use strong passwords when creating accounts.
If anytime you want to change the password, or you are using older version without the hint, open System Configuration and click Users tab.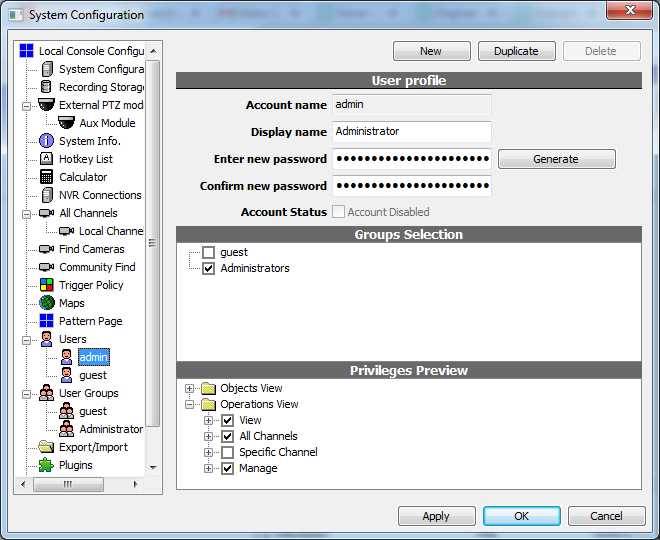 Copyright (C) by Genius Vision Inc., 2011-, all rights reserved. 前瞻視野股份有限公司 版權所有