Example System
/
Genius Vision Rapid Answerer

Low Priority Recording
Purpose
There are many different recording strategies in Genius Vision NVR: unconditional (24x7) recording, schedule recording, motion recording… Only unconditional recording stores every single frame from an IP camera. Other strategies are conditional, that means video is not always recorded. The problem is, it's cannot be proven that there's nothing to be recorded if video is not recorded at the first place. For example:
You setup motion detection and left for vacation. When you are back, something is missing. But there's not any suspicious event in NVR. Then how do you know if motion detection did his job and detected nothing, or it's not working at all?
So there's Priority Recording. It records at lower frame rate when it's off schedule or when alarm is inactive. Users can use the recorded data to confirm that there's nothing missed. Or sometimes users simply don't have enough storage to record at full frame rate 24x7, but still want to record all the time.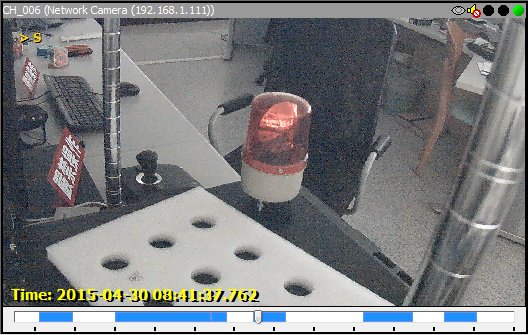 It's impossible to know what happened in the recording gaps (white blocks in timebar).
Usage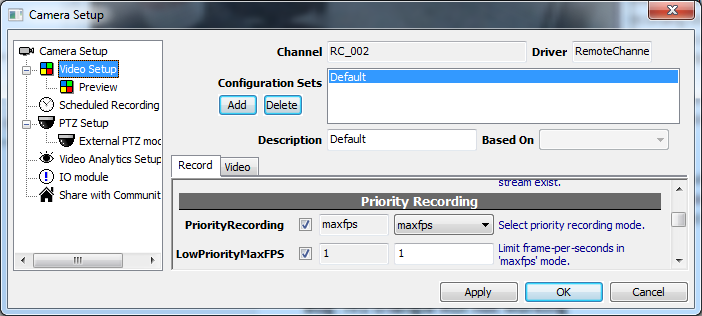 In Record tab of Camera Setup dialog, scroll down and find Priority Recording. There're two parameters:
| | |
| --- | --- |
| PriorityRecording | Must be set to 'maxfps' to enable Priority Recording. There might be other modes in the future. |
| LowPriorityMaxFPS | Set maximum frame-rate for low priority recording. |
Copyright (C) by Genius Vision Inc., 2011-, all rights reserved. 前瞻視野股份有限公司 版權所有