Example System
/
Genius Vision Rapid Answerer

How to switch to matrix view player mode
"Matrix view" is a specialized video player in Genius Vision NVR, which is optimized for better performance. Decoding massive channels with massive resolution consumes a lot of computing power. Use simplified player (no OSD, no aspect control, no zoom, no playback, no audio) for better performance.
Changing to matrix view
Here is how you change to matrix view: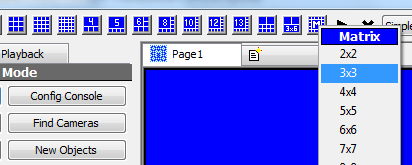 Comparision between normal player and matrix player
Matrix mode uses layout that incorporates simplified player. There are 2 types of player in Genius Vision NVR: full player and simple player. They can be easily distinguished by the caption (title).
| | | |
| --- | --- | --- |
| | Full player | Simple player |
| | | |
| Optimized for | Quality | Performance |
| OSD | Yes | No |
| Aspect Control | Yes | No |
| Digital PTZ | Yes | No |
| Title (channel name, description) | Yes | No |
| Map | Yes | No |
| Playback | Yes | No |
Copyright (C) by Genius Vision Inc., 2011-, all rights reserved. 前瞻視野股份有限公司 版權所有