Example System
/
Community Platform Manual


Community Platform for NVR
Overview
This short video will give you a quick idea about Community Platform.
Community Platform is an initiative to improve global IP camera compatibility. By sharing IP camera connectivity information, you can contribute to the IP video community to help everyone connecting to the same type of camera you're using. You also benefit from the knowledge shared by others. Visit our official website for more information: http://geniusvision.net/cp
There are 2 major parts of Community Platform; NVR and web. In NVR, users can upload or download camera settings. On the web, they can manage and browse uploaded camera settings.
Quick Guide
We have prepared a one-page quick guide to Community Platform on our official website.
Upload Camera Settings
Camera settings uploaded to Community Platform can be searched and downloaded by other users when adding new channels in NVR.
Please note that
By default, user credentials (username/password) for camera will not be uploaded.
IP address of the camera will not be uploaded.
Channel description will not be uploaded.
Whenever a camera is added in NVR and connected for the first time, a dialog pops up to hint users that the camera settings is ready to be shared to Community Platform.

Clicking "Share on Community…" invokes Camera Setup dialog for upload.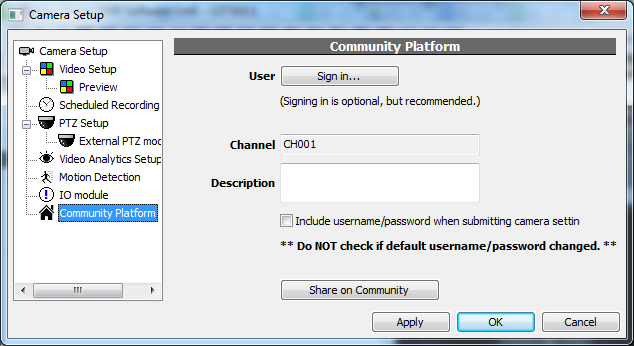 In the uploading dialog, users can do 3 things before uploading:
Sign in (with Google or Facebook account).
Input description.
Choose to upload username/password for camera.
Sign in

Signing in is optional. But if upload camera settings anonymously, users can not get credit. See also Credits

Description

This description will be seen by users when they browse/search camera settings on Community Platform. Please provide as more information as possible. Useful information includes:

Camera manufacturer, model, firmware version...
For Generic Camera Driver, level of functionality. (stream only, or with PTZ or DIO support)
Limitation of the settings, e.g., "MJPEG only" or "DIO not working".
Default static IP address. (Do not include DHCP acquired address)

Username/password

By default, user credentials (username/password) for camera will not be uploaded. User can still choose to upload credentials. Default values could be useful for other users.

Do NOT check this option if default credential has been changed.
Users can access the dialog any time by clicking on the log message in System Briefcase Viewer in left panel.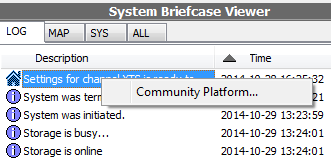 Download Camera Settings
Camera settings can be downloaded from Community Platform and apply to local channels. For this to work, users need to check camera models first and find matching settings on Community Platform.
To download camera settings, when adding a new channel, click Find on Community in Camera Setup dialog...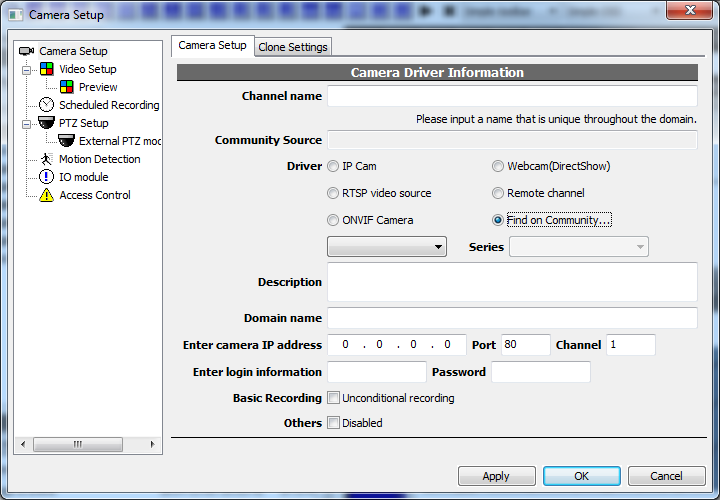 ---
This dialog is invoked for searching or browsing camera settings uploaded by other users. Use the edit control in red box to input keywords (manufacturers, models, types…) and search.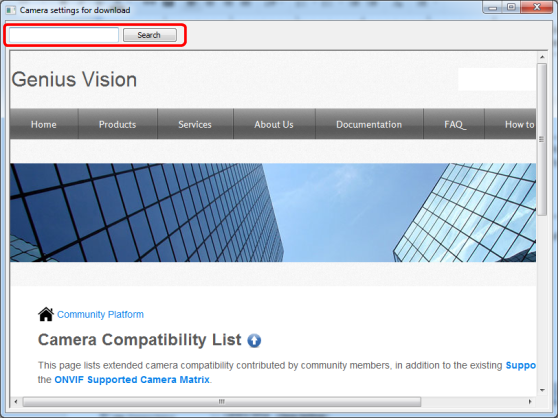 Camera settings that match the keywords will be listed. Click Add to NVR on the right to apply the settings to the channel being added now.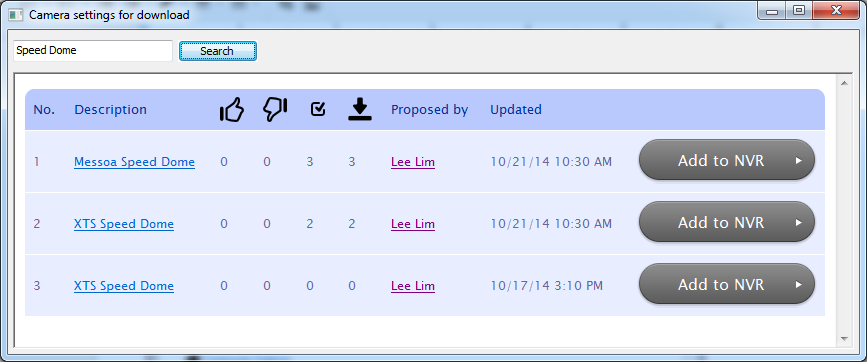 Camera settings, such as encoding, imaging, and streaming… will be downloaded and applied automatically. But users still need to fill the following fields before proceeding to add the channel:
Input a locally unique channel name (Required for any channel, with or without Community Platform)
Input IP address (Refer to camera manual or use find tool provided by camera manufacturer)
Input username/password, if it's not included in the settings downloaded
Users can change to Video Setup page to see what settings are downloaded and applied. Some camera settings are comprehensive while some are not. You can always use Find on Community button to download different settings, even after the channel being added.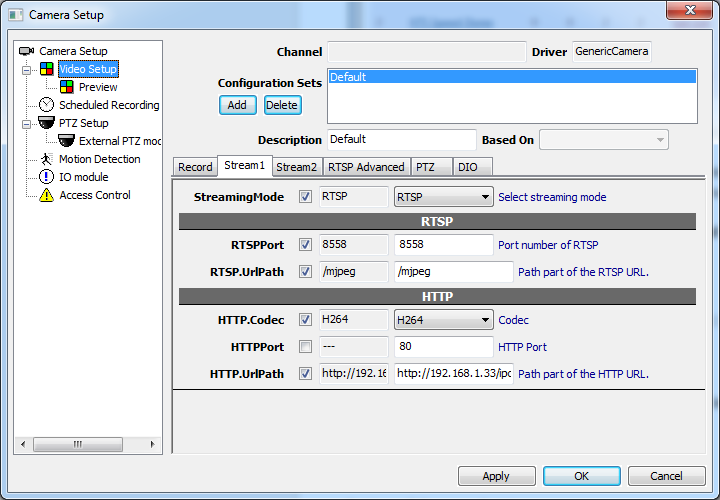 See also
Copyright (C) by Genius Vision Inc., 2011-, all rights reserved. 前瞻視野股份有限公司 版權所有