Example System
/
Genius Vision Rapid Answerer

How to buy license code via PayPal and install to NVR software?
Less than USD3,000/order, we only accept PayPal online payment. All financial/invoice matters are handled by PayPal during transaction, and we will not issue any other form of invoice separately.
Step 1. Go to
portal as illustrated below.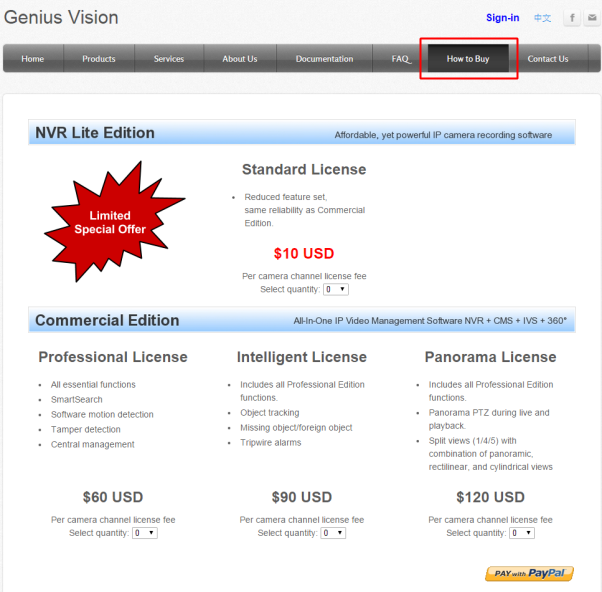 Step 2. Select the types of license you would like to purchase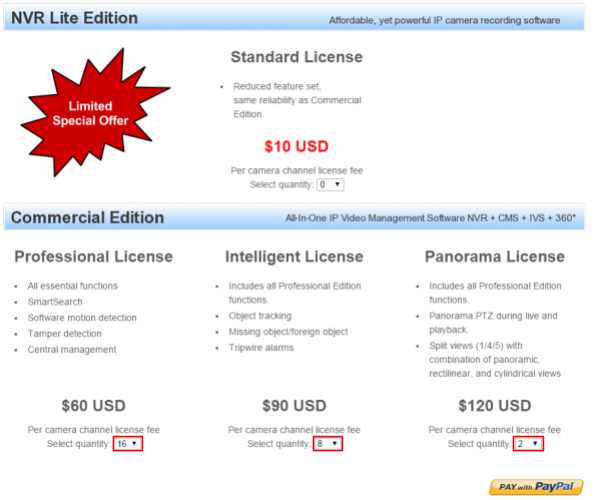 Step 3. Click

to proceed checkout
Step 4. Input your name and User ID (these are optional)
Step 5. Check the boxes (these are mandatory). Read the terms carefully and make sure you really agree on the terms you checked.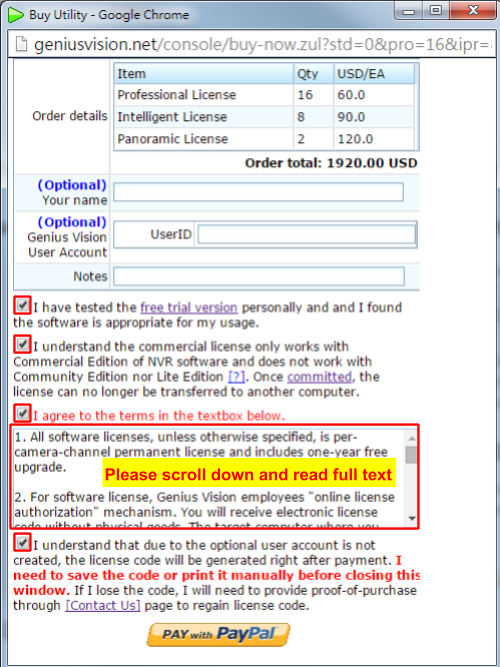 Step 6. Click

to proceed checkout
Step 7. Input your E-mail address and Paypal password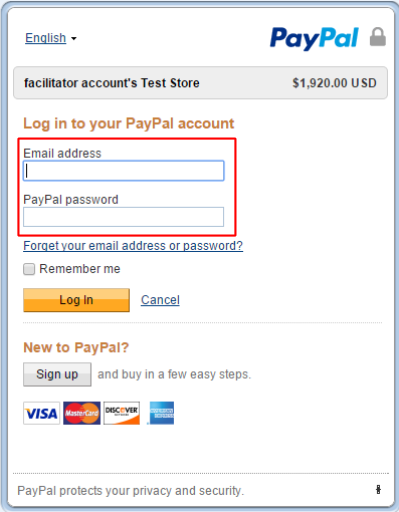 Step 8. Click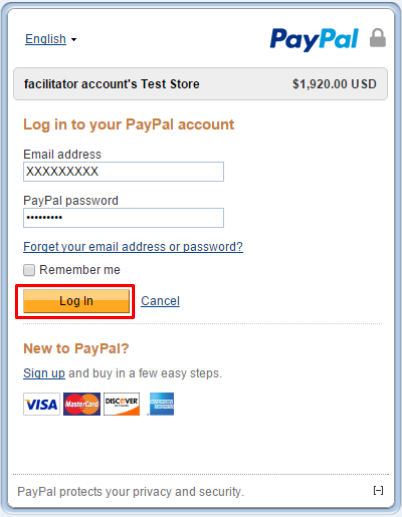 Step 9. Click

NOTE!! After you click

, the transaction should be completed, as we will show you in the next step. However, if something is wrong with your credit card, error might occur here, like the screenshot below. You need to check the error message and contact your card issuer about this error. Please note that because we are selling virtual goods (software license is virtual without physical goods), some credit card issuers might deny this type of transaction. Please communicate with your credit card issuer to permit this type of transaction on your card.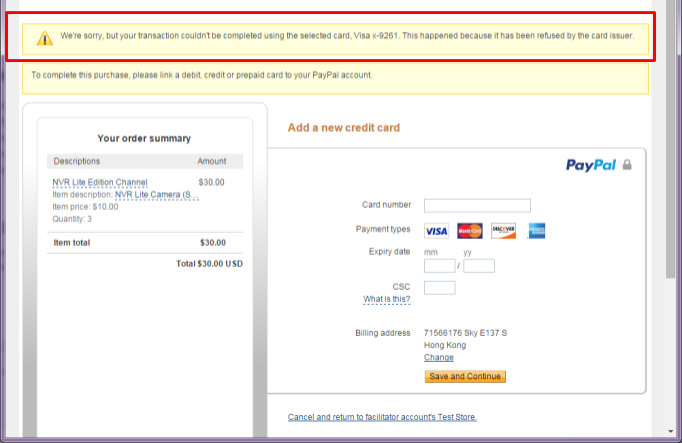 Step 10. Keep the license code and read the "System Maintenance Guide" before installation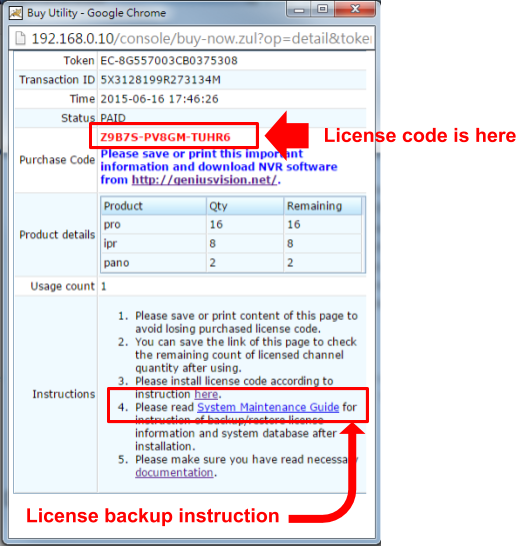 Step 11. Bring up License Manager
To bring up license manager, right-click on the NVR organizer. In this alternative, however, you must note following:
You must have administrative privilege. As running license manager requires administrative access to your computer.
On systems like Windows Vista or Windows 7, where administrative privilege is often not given in default scenario, you will need right-click NVR organizer and select "Run as administrator" to let the program gain administrative access.
The NVR engine service must NOT be also running. That is: only one of NVR engine and License Manager can be running at the same time. They are, sort of, exclusive to each other. If you try to start NVR engine service while License Manager is running, it will cause the NVR service license check to fail.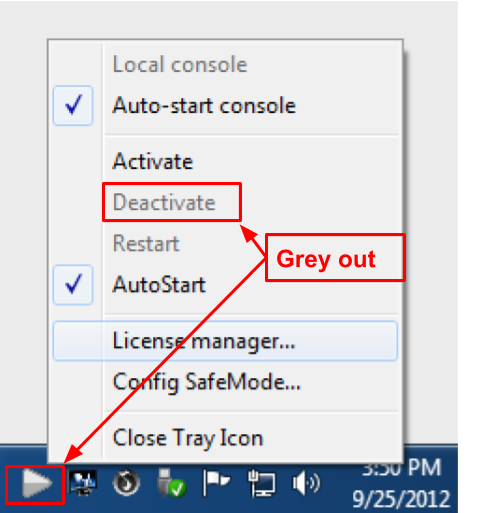 Windows 7 and Hidden Tray Icon
In Windows 7, tray icon is hidden by default. You have to click the white triangle to access hidden icons.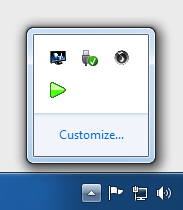 To make the hidden icon always visible, click "Customize..." and set the icon to "Show icon and notifications".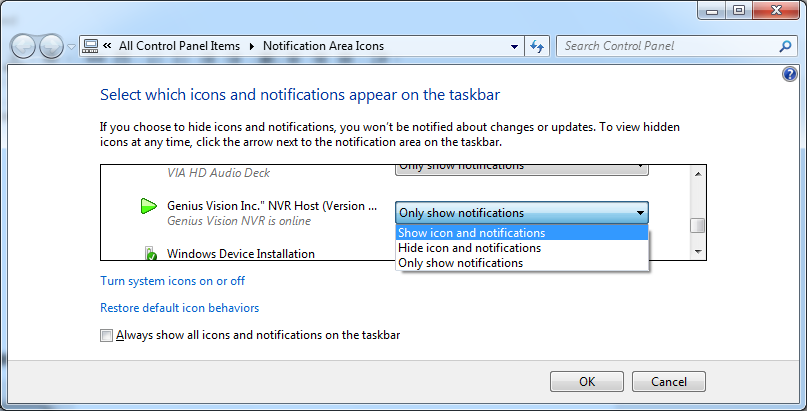 Step 12. License Manager - Install package online
The fastest and most convenient way to install package is through "Install package online" option. You will need unrestricted access to the Internet to use this option. Please note however, using this option means you will need Internet even in normal operation, as License Manager will check in the background periodically for license validation. (see Concepts.)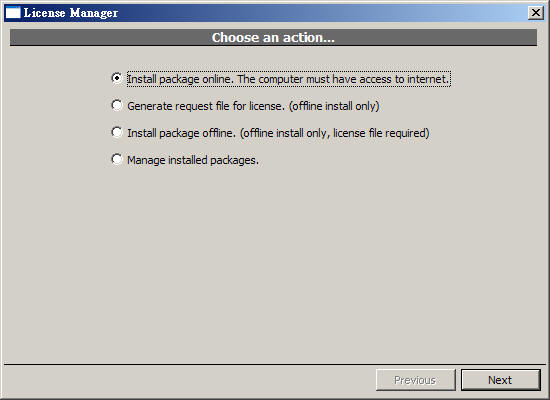 After clicking "Next", following screen will appear. You need to enter purchase code, package, and desired quantity. Please note the desired quantity must not exceed the remaining purchased quantity. If you check the "Commit to current computer" box, this will became an offline license (unless the licensing terms doesn't allow that). You can always convert an online license to an offline one later.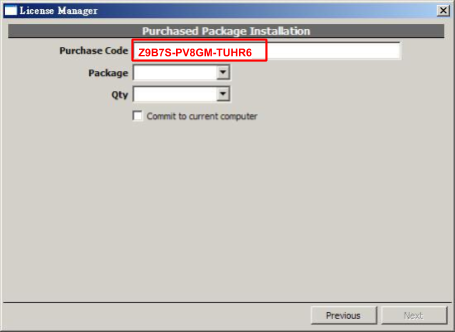 See also
Copyright (C) by Genius Vision Inc., 2011-, all rights reserved. 前瞻視野股份有限公司 版權所有