Example System
/
Genius Vision Rapid Answerer

What is 'VIDEO ANALYTICS INACTIVE' alarm
When you see this message, it means that video analytics (such as motion detection, object tracking, etc) is configured, however actual computation is not performed for this channel. Many people receive this alarm when changing a live video (which is responsible for actual computation of video analytics) to playback. Try to remember that video analytics works in WYSIWYG way, so you are not seeing it, most likely it's not analyzing. We'll explain more in detail below.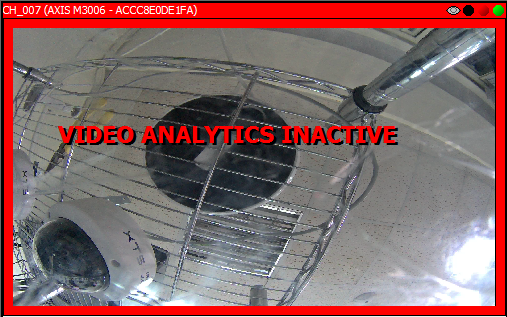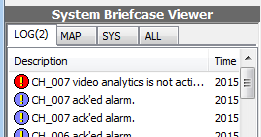 Why video analytics sometimes stops running? That's because for NVR to analyze, live video must be decoded first. Decoding video consumes significant amount of system resource and so does video analytics. For this reason, Genius Vision NVR let users manage video analytics. Users can choose to run video analytics on NVR server or on any of the consoles connected to that NVR server. We call this Distributed Video Analytics. If video analytics is not performed anywhere, the 'VIDEO ANALYTICS INACTIVE' alarm shows. If the only player performing video analytics is not showing live (may be paused, in playback, stopped, or closed), video analytics stops and the alarm shows. Users can also check video analytics status on Status indicator of a player.
To dismiss this alarm, just enable video analytics, on server or client. If you decide to run it on client, please make sure that the console is operated only by administrator, and live video is not paused, stopped, or closed. For large systems with multiple channels running video analytics, there are usually one or more dedicated computers for video analytics that are not accessible by operators. In small systems with only limited channels, the easiest way to make sure video analytics is always running is to use server detection. But please remember that it takes extra system resource to decode live video.
Copyright (C) by Genius Vision Inc., 2011-, all rights reserved. 前瞻視野股份有限公司 版權所有