Example System
/
Genius Vision Rapid Answerer

How to bring up license manager in order to install license?
Commercial Edition
To bring up license manager, right-click on the NVR organizer. In this alternative, however, you must note following:
You must have administrative privilege. As running license manager requires administrative access to your computer.
On systems like Windows Vista or Windows 7, where administrative privilege is often not given in default scenario, you will need right-click NVR organizer and select "Run as administrator" to let the program gain administrative access.
The NVR engine service must NOT be also running. That is: only one of NVR engine and License Manager can be running at the same time. They are, sort of, exclusive to each other. If you try to start NVR engine service while License Manager is running, it will cause the NVR service license check to fail.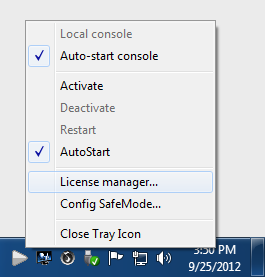 See also
Subscription Edition
There are two parts of installing subscription license:
Prepare license in subscription cloud manager web interface
Activate the subscription in NVR
To prepare license, open web browser and visit http://geniusvision.net/ss. Please refer to How to use subscription cloud manager web interface for more information.
To activate the subscription, click Subscription Manager in System Configuration dialog. Please refer to How to activate NVR Software Subscription? for more information.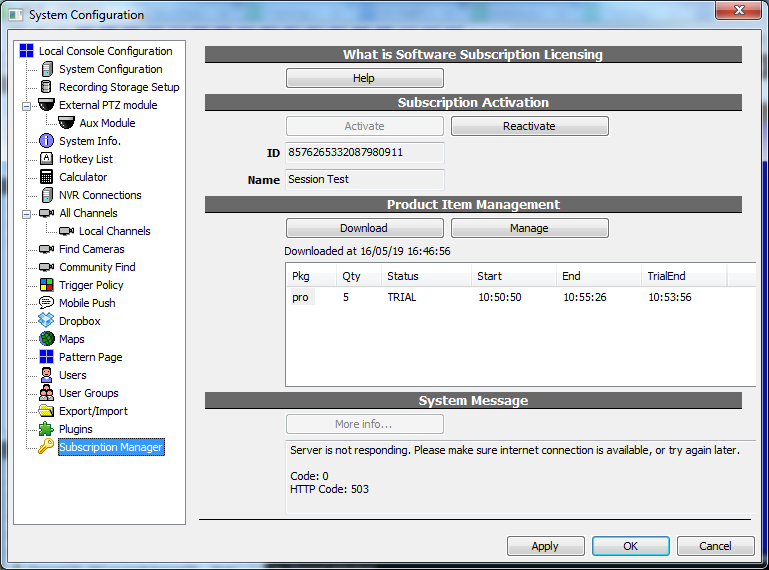 Copyright (C) by Genius Vision Inc., 2011-, all rights reserved. 前瞻視野股份有限公司 版權所有